Senior moment… brain burp… mental lapse…
Call it what you want, we all experience moments of forgetfulness as we age.
But we don't have to.
There are key vitamins and supplements you can take to protect your aging brain.
And one of the best has been used for decades for helping to prevent heart disease, stroke, lupus, and eczema.
And now it's been shown to boost your memory and cognition, too.
---
They're selling this "forbidden" book on Amazon right now for $89.98...
They're selling 
this "forbidden" book
 on Amazon right now for $89.98.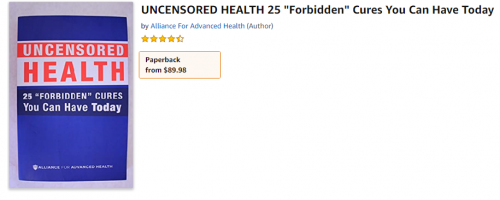 Why? Because it contains more than 25 new NON-DRUG solutions for heart disease, dementia, type 2 diabetes, arthritis, vision loss... and even cancer.
Honestly -- it's worth much more than $89.98.
But thanks to a special sponsorship, we're giving away 699 copies today when you purchase a trial membership to the Alliance for Advanced Health.
This astonishingly powerful book of disease solutions is free today to the first 699 people who respond below.