If you're trying to stay healthy, there's no doubt you've made some sacrifices.
And one of those is probably cutting back on your calorie intake.
That's why you opt for diet sodas… or maybe you use Splenda instead of sugar in your morning coffee.
But as it turns out, most of these "healthy" alternatives are NOT healthy at all.
In fact, they could be sending your cancer risk through the roof!
---
They're selling this "forbidden" book on Amazon right now for $89.98...
They're selling 
this "forbidden" book
 on Amazon right now for $89.98.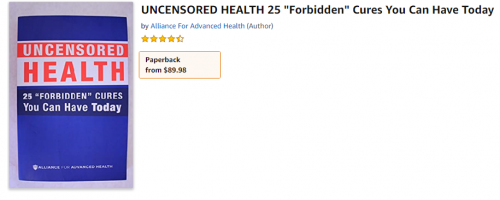 Why? Because it contains more than 25 new NON-DRUG solutions for heart disease, dementia, type 2 diabetes, arthritis, vision loss... and even cancer.
Honestly -- it's worth much more than $89.98.
But thanks to a special sponsorship, we're giving away 699 copies today when you purchase a trial membership to the Alliance for Advanced Health.
This astonishingly powerful book of disease solutions is free today to the first 699 people who respond below.