You don't have to feel miserable and you don't have to force a smile for your loved ones.
As you get older, sometimes we're prone to convince ourselves that depression is just another joy that comes with age.
But I cannot stress this enough: It doesn't have to be.
You CAN lower your risk of depression with a drink that won't leave you feeling like a zombie.
---
They're selling this "forbidden" book on Amazon right now for $89.98...
They're selling 
this "forbidden" book
 on Amazon right now for $89.98.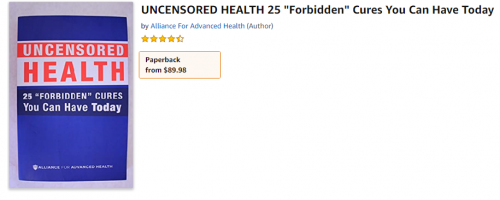 Why? Because it contains more than 25 new NON-DRUG solutions for heart disease, dementia, type 2 diabetes, arthritis, vision loss... and even cancer.
Honestly -- it's worth much more than $89.98.
But thanks to a special sponsorship, we're giving away 699 copies today when you purchase a trial membership to the Alliance for Advanced Health.
This astonishingly powerful book of disease solutions is free today to the first 699 people who respond below.